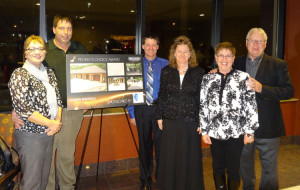 Susan Murphy Jones, owner and senior designer at Landscape Solutions, along with Paul Ostrowski, of Ostrowski Landscape and Lawncare, will be featured several times in the 2014 Belgard Hardscape catalog showcasing one of Wausau's finest 2013 parade home landscape installations. The project highlights the exception hardscaping products of Belgard, which are available through B and C Construction Supply.

This design was chosen and nominated nationally by Belgard for its World Class Award! The projects' extensive and unique utilization of timeless patterns complimenting the outdoor colors and texture of the 2013 parade home captured the judge's vote. "This best in class driveway design and installation award is intended to congratulate the creator of a driveway project that far exceeds the typical standard. The winner of this award not only pushed the envelope but tore it wide open to achieve something rare and special for their client."
This award was also nominated by the Belgard world class committee for its People's choice award. For great design and installation contact Susan Murphy-Jones at Landscape Solutions. Pick up a copy of the new Belgard catalog to see this and several other world class designs.