Hardy, Midwest Propogated, Cypripediums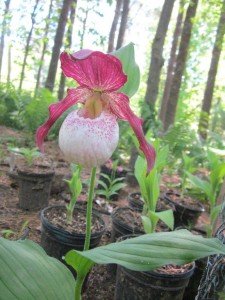 For the past several years Landscape Solutions, located in central Wisconsin has successfully grown the beautiful, rare, and wonderful Frosch Hybrids lady's slipper orchids from Germany. We are now willing to sell some of our more mature clumps.  These orchids are not collected from the wild, but nursery propagated. They take many years to get to the blooming stage. Cypripedium orchids have the distintive lady's slipper shape and are among the most highly desired woodland garden plant available! They do require some tender loving care. The beauty of these magnificent flowers is sure to win over your heart.
Plant our hardy lady's slipper Cypripedium orchids in the late fall or early spring.
If you are interested in purchasing any Cypripediums, please contact Susan Murphy Jones, owner of Landscape Solutions. She will review with you the cost and indicate the Cypripedium varieties currently available. Price will depend on the size of the plants.
A few of our hardy lady's slipper Cypripedium varieties include:
Cypripedium Reginae – Showy Lady's-slipper, also known as the Pink-and-white Lady's-slipper or the Queen's Lady's-slipper,
Cypripedium Parviflorum var pubescen – Greater Yellow Lady's-slipper
Cypripedium – Birgit Pastel
Cypripedium – Gisela
Cypripedium – Hank Small
Cypripedium – Kentucky
Cypripedium – Sabine Pastel
Cypripedium – Big Pixie